Rainbow Reward Squad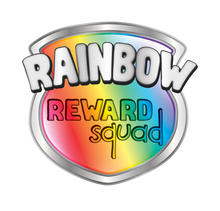 Regular price
€19,99 EUR
Sale price
€14,99 EUR
Unit price
per
This complete reward chart system is the effortless and fun way to teach your children great habits.
Each day that your child completes (or makes a great attempt at) a skill they earn a sticker for their chart. When they fill the chart for that skill you reward them with the characters button badge. It's never been easier to teach your child to eat their greens, brush their teeth, go to - and stay! - in bed, be neat and tidy and read more books. And there's the secret character to unlock, too!
This clever reward system includes:
Rainbow Reward Squad Story Book
Bright and Colorful Reward Chart
Daily Reward Stickers
5 Shiny Reward Badges
and Some Extra Character Decals… because everyone loves decals!
Share